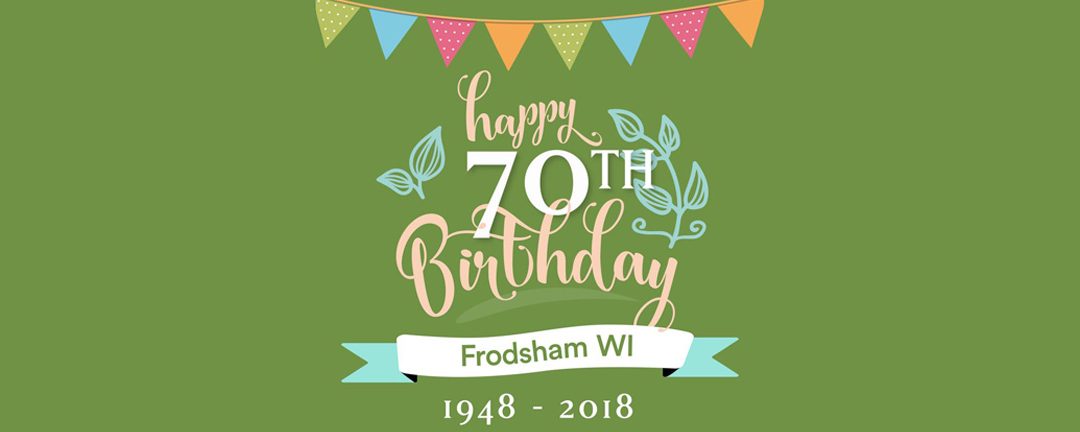 Frodsham WI is delighted to announce in 2018 we are celebrating our 70th Birthday, formerly known as Five Crosses WI which was founded in 1948. In 2007 we became Frodsham WI.
It has been a successful beginning to their 70th Birthday year with members enjoying a visit from guest speaker and award winning hairdresser Andrew Collinge who gave a very engaging talk about his hairdressing heritage together with highlights of a fascinating career.
Frodsham WI meets on the first Thursday of the month at the Frodsham Community Centre on Fluin Lane, where a special meeting was held in March to mark this milestone birthday. Members enjoyed a three course dinner, live music by Ashton Folk, birthday cake and were given a branded celebratory tote bag to mark the occasion. Do look out for them in Frodsham and area!
Frodsham WI currently has 55 members and is a very active group with members ranging from 40 – 97 years of age. Members organize the Frodsham 'Make it, Bake It, Grow it, Sew it' event, support local events such as The picnic in the park and Frodsham Community Centre quizzes, together with projects such as the litter clean up. Many support requests for local assistance such as making child friendly blankets and sheets and knitted octopus toys for premature babies in support of one of our members Sharon Greenwood who works as a Sister on the Pediatric intensive care unit at Alder Hey.
Members also belong to the various groups including Book Club, Craft group, Sports Club and are launching a new Walking group. Trips & outings are planned throughout the year & the group annually supports and takes part at the WI events at the Cheshire Show.
Joint Presidents Jan Moran & Cath Stone say: "We are delighted to be celebrating Frodsham WI's 70th Birthday. We have a very rich heritage and a wonderful and very active group of members who are passionate about our history and our future. The celebrations will continue throughout the year in various ways and we're looking forward to the next 70 years."
Call to action: We would like to get in touch with all our former members to invite them to a special Frodsham WI 70th Birthday Afternoon Tea on Saturday 7th July. To register interest please contact Cath Stone on 01928 735454
If you would like to know more about the Frodsham WI or are interested in becoming a member contact Gill Harrison on 01928 732340